My beloved hometown of Cleveland, Ohio has the tendency to make national headlines for all the wrong reasons, it seems. Whether it is another heartbreaking Cleveland Browns loss, the river setting on fire, or the infamous Ten Cent Beer Night. Last week was no different, when scandal erupted at the Lake Erie Walleye Trail Fishing Tournament. A field of 65 two-man teams were competing for just under $30,000 in prizes in Cleveland Harbor.  After eight hours of fishing, the team that brought in the heaviest set of five fish would be declared the winner. However, the supposed winners of the tournament raised suspicions when the tournament director noticed a discrepancy between the size of their fish, and their weight. The tournament director pulled out a fillet knife and cut open the fish to reveal 10 12-ounce sinkers in the set of five fish, along with extra fillet padding. Mayhem erupted, and the tournament director warned the culprits to get out before things got violent.

How does this connect to MobLab & experiments? Well, I'll admit that it doesn't, but my colleagues know I don't pass up an opportunity to bring up Cleveland. So I'll take a giant leap of faith and connect fishing to the Tragedy of the Commons through one of our most popular games - Commons: Fishery game.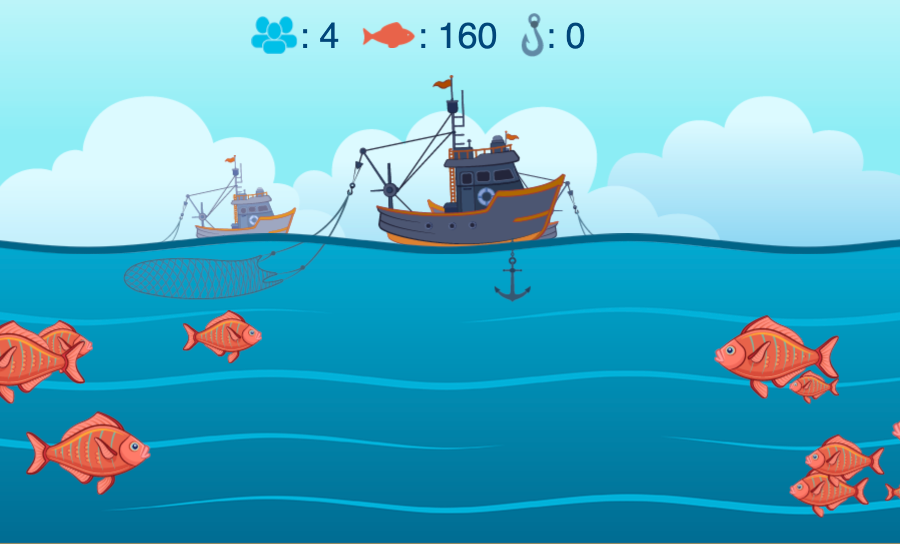 Commons: Fishery Game Interface
In this game, students operate a fishing boat on the sea and cast their nets to catch fish. There is a maximum capacity of fish in the sea and the fish population doubles at the end of each season. The catch (to the game, not to the fishing) is whether your students can sustain a healthy stock throughout all the seasons. To get the most out of this game in class (like what Penn State students experienced), we recommend a couple different configurations of this game:

Configuration 1: Fishing in Groups of 4

Our default parameter of this game has the group size = 4. This means that students will be fishing out of the same resource with 3 other classmates. (A class of 100 will have 25 groups of 4.) In this economic model - students pursuing their own self-interest and higher payoffs will result in the common resource being depleted after only a few rounds. If one cannot guarantee that the other students will fish sustainably, then it becomes a frenzy to snatch up as many fish as possible.  

The commons is fundamentally about having too few property rights. Because each person can fish the lake, graze the pasture, take the water, etc. there are incentives for each person to take the resources before the other person gets them all. We recommend a group size of 4 as the resources may get depleted too quickly with a larger group, and conversely a smaller group may never experience the pain points of sharing a common resource.



Actual Class Results

Configuration 2: Enabling Chat

In this second iteration, instructors can launch the same game but allowing students to chat within their group. Professor Doug Norton notes "another important aspect of the commons is the role of covenants or agreements about how much to use the resource. With MobLab interactive economics games, you can allow students to chat with each other within the game to make these agreements by checking the Allow Chat box."



Configuring Commons: Fishery Game
Enabling chat for students to coordinate does not necessarily mean they will overcome the sustainability challenges in this game, but if all group members cooperate, they do have a good chance and more importantly, they have thought of a solution and are engaged in the lesson.

Unlike with the Lake Erie Walleye Trail Fishing Tournament, there is no cheating in our Commons: Fishery game. As surely more stringent rules will be put in place to regulate the fishing tournament, you can also apply some rules for your students by trying the fishing game with a quota to maintain a healthy stock of fish and avoid the tragedy of the commons.  If you're short on class time, you can also set up this game using our asynchronous module for students to explore on their own.

Would you like to learn more about fishing scandals? MobLab can't help you there, but if you would like a demo of any of our interactive economics games, we're ready to help! Simply select a day and time you want to meet on our scheduler.