Earlier this year, I had the privilege of facilitating several focus groups with students at one of the top engineering schools in the nation. The students loved how the interactive aspect of MobLab brought theory to life and how the experiments broke up their lecture time, which made the material more digestible for students who have not been exposed previously to economics. While hearing students enjoy playing the games in their class was not unexpected, I was pleasantly surprised to hear that the students also placed a high value on the reflection and discussion portion after the game play. Their response highlighted the benefit of using MobLab, not only for its games, but also for its reflection capabilities as a means to encourage discussion and student participation.

The importance of reflection in experiential learning is no new discovery. As highlighted in this article, reflection serves a key role of allowing students to form their own connections between their experience in the classroom, the economic theory, and how theory applies to the real world. Further, encouraging your students to critically think about their behavior facilitates discussion since students are better prepared to present their thoughts which in turn can increase student engagement since they now have made the connection to the material at hand.

To make your class more interactive, MobLab's survey tool can be used to have students reflect on the game immediately after playing and/or before presenting the results. Let's say that you played MobLab's Public Good: Linear game with your students during your lecture. Using the blank survey, you may ask your students some questions after the game but before presenting the results to have them reflect on their behavior in the game. For example, you may ask them:


How much did you contribute in the first round?
What factors did you consider when deciding how much to contribute in following rounds?
Did you choose to rely on your classmates and their contributions? Why or why not?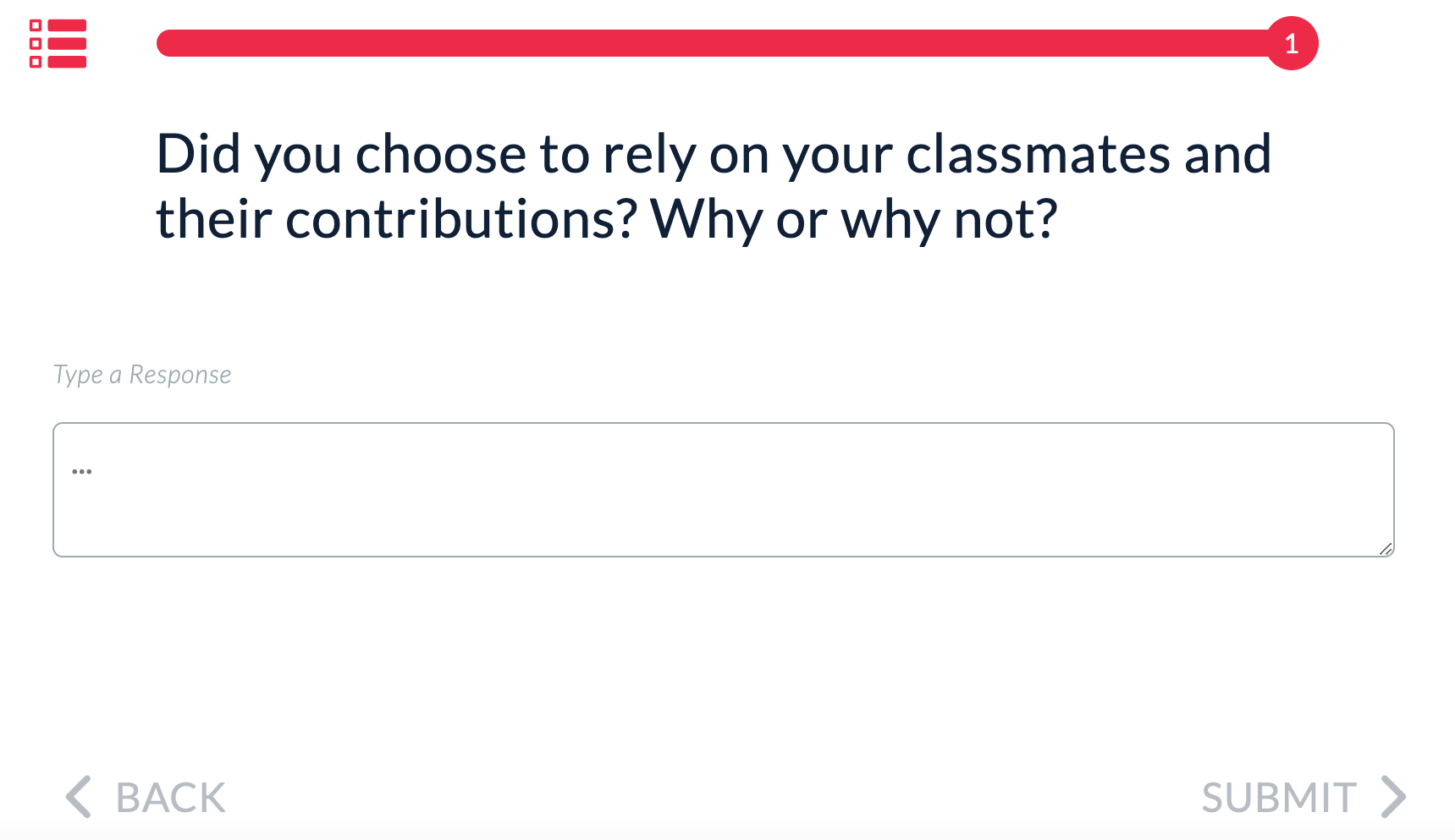 Sample post-game reflection question
After you give your students a few minutes to answer the questions, begin your discussion! Students will be more willing to volunteer answers now that they have reflected on their own behavior during the game. Further, now that students have made their own connections with the learning material, they will likely benefit more from the discussion and be more than ready to understand the results from the game.

Reflection is a powerful tool that encourages students to think critically and create their own connections with the subject matter. Using MobLab online economics games as a reflection tool gives your students the opportunity to foster their own understanding of how theory applies in a real world setting and can increase student participation and interactivity in your class as well. In addition, if you run experiments asynchronously with MobLab's Online Assignment tool, you can still scaffold activities to create a lesson plan with debrief questions after gameplay, allowing students to come to class prepared the next day.

Want to see how MobLab surveys can enhance experiential learning for students? Get in touch with our team! We are happy to help!